Consultations are by appointment only.
The following specialities are available: general medicine, dermatology, gynaecology, physiotherapy, nutrition, speech therapy, osteopathy, ENT, psychiatry, psychology, psychomotricity, psychotherapy, rheumatology, surgery and nursing.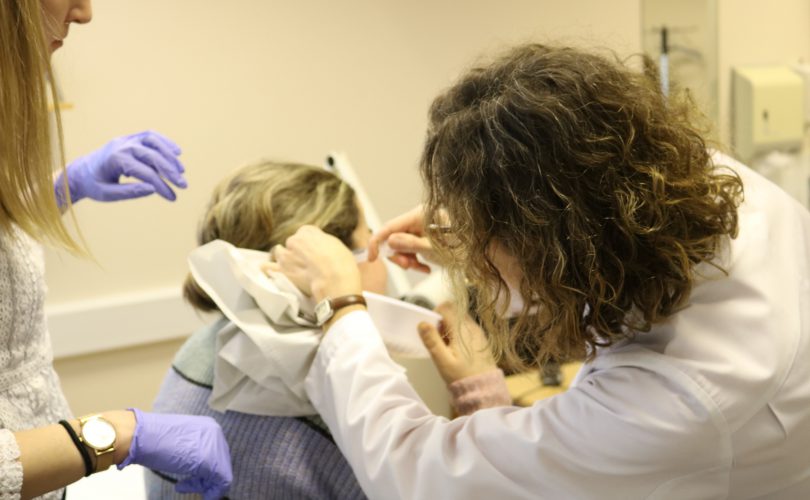 All our health professionals are qualified and registered with their respective professional bodies. The Dispensaire is registered with and regulated by the Care Quality Commission (CQC), the government body regulating health services in the UK.
After their last inspection in October 2019, for the second year running, the CQC gave the Dispensaire Francais a very good score in all areas: security, efficiency, reactivity, quality of care and leadership. This exemplary quality is the result of a coherent and efficient medical direction and highly qualified health professionals.
Appointments
Cost and registration at the Dispensaire
All our health professionals are voluntary.
Registration at the Dispensaire is for one year, in exchange of a £10 contribution. Each consultation costs £10. Registration is effective from the first appointment.
In exceptional circumstances it is possible to be seen free of charge.
In the case of a chronic illness that has lasted more than 3 months and/or with previous consultation, please bring your medical records and test results.
We are not able to offer medical imaging, extensive testing or long term treatment. If necessary we refer patients to the NHS.
Assistance and accessibility for people with disabilities
If you need specific assistance, please tell us when you make an appointment so that we can welcome you in the best possible way.
When ?
The Dispensaire is opened Monday to Thursday from 9am to 5pm and on Friday from 9am to 4pm.
Consultations are by appointment only. Please contact us: 020 8222 8822.
NHS 111
You can call 111 to obtain information about NHS services near you as well as medical help.
It is not an emergency number; it is available 24/7, every day of the year.
Calls are free.
In case of emergency, call 999.
Available 24/7, every day.
Calls are free.
Where ?
The Dispensaire is situated in central London and easily accessible by tube and bus.
Address
184 Hammersmith Road
London W6 7DJ
Tube
Circle, Hammersmith and City, District and Piccadilly lines.
Bus
9, 23, 27, 28, 72, 190, 211, 220, 266, 267, 283, 295, 391, 533, H91
Help for 13-25 years old
Help and support for young people, 13-25 years old.
Depression, nutrition, bullying, addiction, love, sexuality, dermatology
https://espacesantejeunes.org.uk
Free
Confidential
No appointment necessary
Permanence staffed by a psychologist
Referral to other health professionals at the Dispensaire ( GP, gynecologist, nutritionist, dermatologist, psychiatrist, nurse)
Or referral to British health services.
Every Friday from 12pm to 3pm at the Dispensaire.